Charming, lively and picturesque seaside town in the region of Apulia, Otranto offers an amazing mix of history, laid-back holiday atmosphere, clear waters and a bustling sea-front area gazing out over the Adriatic Sea towards Greece and the Balkans.
The city's east-facing sea-front position has deeply influenced its history. It was important as a Greek and then Roman commercial port, later invaded by the Byzantines, the Normans, the Aragonese and the Turks. In the province of Lecce, Otranto is famous abroad for The Castle of Otranto, Horace Walpole's first Gothic novel ever written.
Within the area known as Salento, Otranto has many architectural gems, such as the delightful Romanesque cathedral, dedicated to the Annunciation of the Virgin Mary, with gorgeous 12th century floor mosaics, and the imposing Castello Aragonese, at the entrance to the town's historic center, a mighty construction now open to visitors. Outside the castle you can walk up to the top of the walls and enjoy great views of the harbor and bay.
The city center is enclosed within its thick defensive walls, which give a real sense of history. On summer nights, Otranto has a lively holiday scene, with shops are open until late and a series of sea-front promenades with excellent fish restaurants.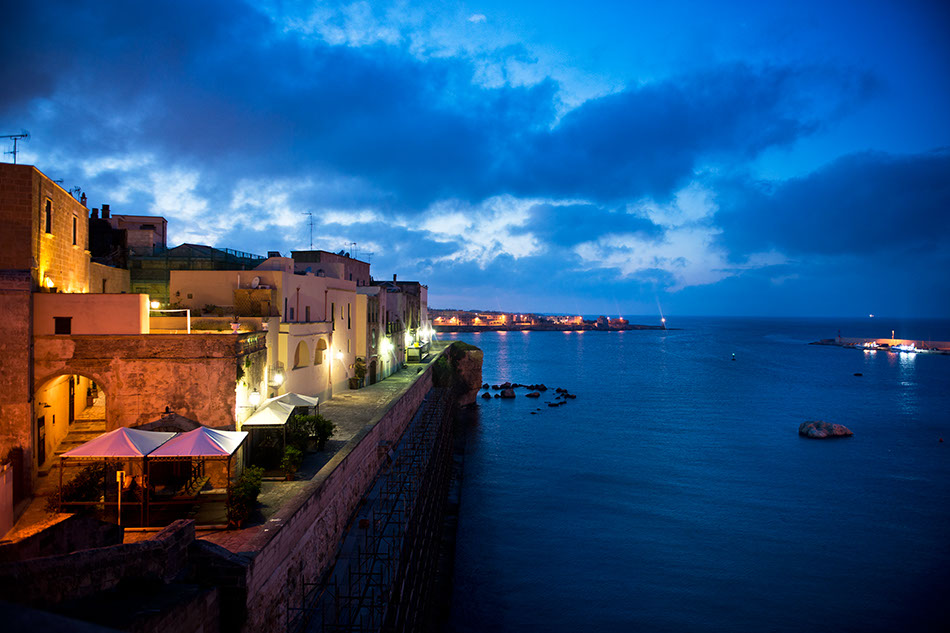 Day boat trip around Otranto
The picture-perfect turquoise waters and rocky coast around Otranto are good for swimming, snorkeling and diving. A boat trip is a must do, to really enjoy the beauty of this area, where a number of stunningly beautiful beaches and bays are only accessible by boat.
Most luxury yacht charters and sailing companies offer both full-day and multi-day trips departing from Otranto and stopping off for swimming, snorkeling and diving at:
Baia Morrone, a fabulous bay where water is emerald green, similar to the Caribbean Sea;
Baia Imperia, accessible only from the sea;
Grotta della Monaca, a stunning sea grotto where Mediterranean monk seals used to live;
Punta Palascia, or Capo d'Otranto, Italy's easternmost point, with rocky cliffs, a lighthouse and breathtaking views;
Baia dei Turchi, an uncontaminated bay of dazzling beauty, set in a wild and unspoilt landscape;
Porto Badisco, a secluded picturesque rocky cove, which, according to Virgil, was the arrival point of Aeneas's first landing in Italy;
Laghi Alimini, two large interconnected lakes close to the sea, forming a marine nature reserve just north of Otranto, with a comfortable and quiet long beach with white sand dunes and turquoise shallow waters, serviced with a good deal of charming cafes and restaurants. Sun lounges and beach umbrellas are available to enjoy the sun. This is a real paradise for nature lovers, home to a wide range of flora and fauna, which hosts, among others, endangered species and migratory birds.
Where to stay
Otranto offers a wide range of luxury accommodation options ranging from high-class boutique hotels and luxurious spa resorts to charming seafront summer villas with extensive manicured gardens, opulent interiors and direct sea access.
How to visit
ILC can organize your next dream trip in Otranto with ease. Just contact us by clicking here.
Are your bags packed yet?