Discover Corinaldo: polenta, wine, witches and fig cannons
Wondering what to do in Corinaldo ? This picturesque village is in Marche and has been previously voted "I borghi piu bellu d'Italia" – or to English-speakers "Italy's prettiest village," and it's not hard to see why.
Steeped in medieval history, including 1100 year old walls, moats and battlements, Corinaldo tells the story of a time gone by, whilst also being located near to the Adriatic coastal beaches of Senigallia and Ancona. Keep reading for more of what to do in Corinaldo.
What to visit in Corinaldo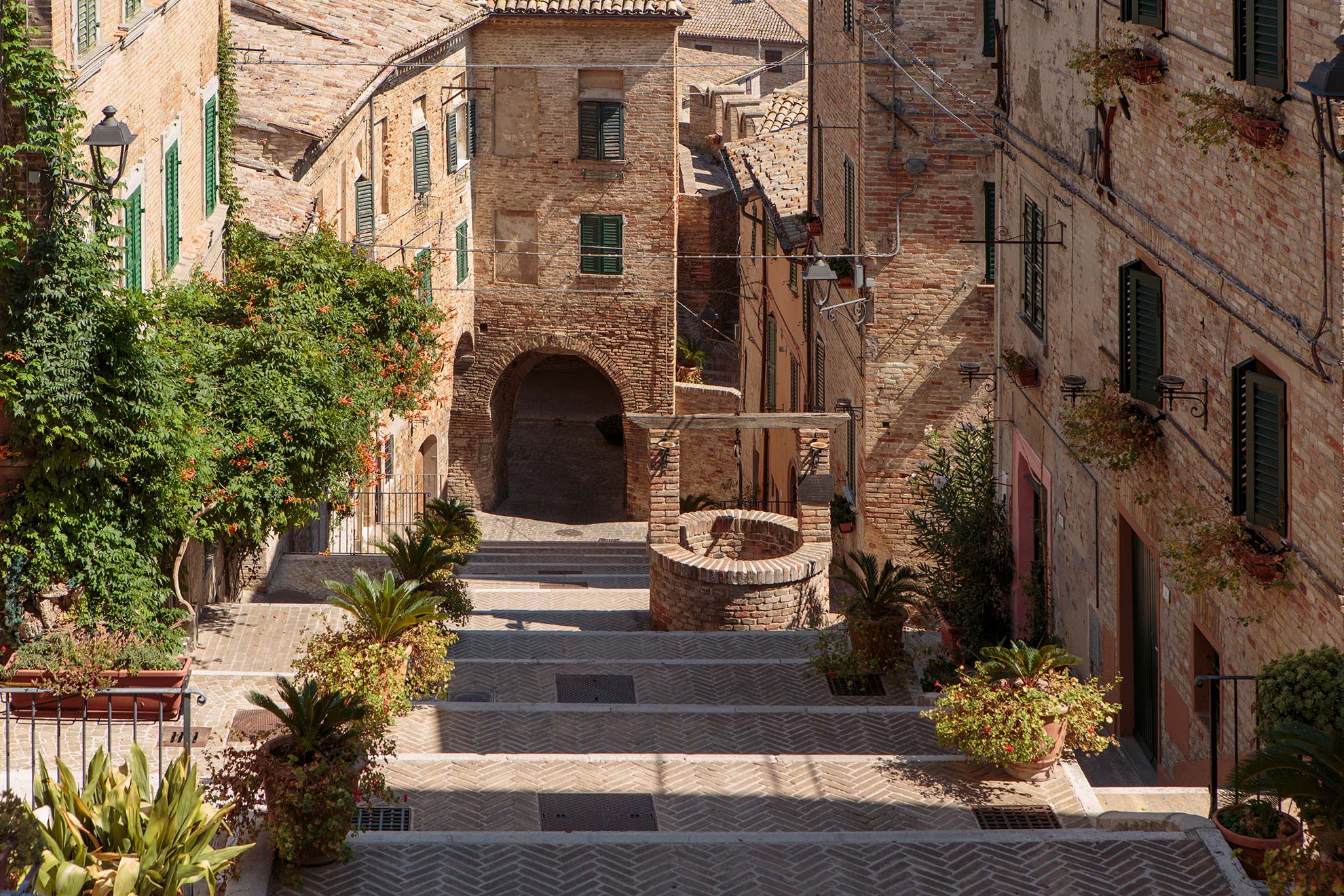 As Corinaldo is famous for being the birthplace of Saint Maria Goretti, it is recommended to see the Saint Maria Goretti Sanctuary and Diocesan Shrine as well as the birthplace of the Saint.
One of the beautiful oddities of the village is the 109-step staircase, La Paggia, with the red-brick houses built off of it in a herringbone formation.
Another fascinating peculiarity is the Scuretto House: Scuretto's son emigrated to America, sending his father money periodically in order to help him to build a house – the trouble was, however, that Scuretto loved to frequent the local Taverns.
When the son grew suspicious of where the money was going, Scuretto built only the façade of the house, along with 4 windows and a house number and sent a photo to his son – the house remains as a façade, as Scuretto's son sent him no further money. We love this story and think it is one of many great places to visit in Corinaldo.
What to drink in Corinaldo
There are excellent wineries in Corinaldo that offer truly delicious wine (we're sure Scuretto would agree). For D.O.P. wines that are made with wild hawthorn, linden, wild apricot, white peach and cedar tree scents and notes, why not try Baldarelli Valerio? They also provide guided tours of the vineyards and production facilities, finished off with a wonderful wine tasting session.
For wines that are produced in the heart of the Marche region that are dedicated to growing the best grapes for wine production, try Boccafosca. This fantastic farmers' cooperative is located 12 miles from the beaches of Senigallia and is close to the Arcevia mountains, which all contribute to the great taste of this wine.
If you're looking for wine that is steeped in tradition and Italian family values, look no further then Federico Mencaroni's in Corinaldo. Federico uses a traditional method to create his wine and uses a combination Verdiccio, Malvasia and Biancame white grapes as well as some of the red varieties such as Montepulciano. Details of wineries are below.
What to eat in Corinaldo
Corinaldo is known for fantastic local ingredients such as extra virgin olive oil, honey, sausages and various breads. Many local restaurants will use recipes from age-old traditions as well as Nonna's recipes.
You can look forward to tucking into local classics such as passatelli in capon broth. Lasagne fans can rejoice as this region is home to a local type of lasagne called vincisgrassi. This area is also known for its spectacular roasted dishes, such as roasted goose. You can also find some fantastic pizzas in local restaurants with spectacular views across the village.
Events in Corinaldo
Along with events around the famous 'Polenta Well', Corinaldo offers visitors festivals such as the fools festival 'la Festa dei Folli' in April, and in October you can look forward to the Witches' Festival 'La Festa delle Streghe.'
The village is also often abuzz with street entertainers, delicious and intriguing markets, fun shows and more.
To help create the ideal holiday for your trip to Corinaldo, please click here to get in contact with us.