Wine-lovers rejoice: this blog will be taking you through the best places to visit in Montepulciano, Tuscany, home to the 'noble' red wine and Montepulciano grapes.
To locals, the wine is known as 'Vino nobile di Montepulciano' which can be sampled at most of the local wine bars and restaurants. The village itself is set in the world-famous rolling valleys and mountainous Tuscan landscape.
Montepulciano really delivers on food, wine, Medieval and Renaissance architecture as well as having plenty of places to explore, all surrounded by rather breath-taking views. Here are the best places to visit in Montepulciano as well as the best places to eat and drink in Montepulciano.
Best places to visit in Montepulciano, Tuscany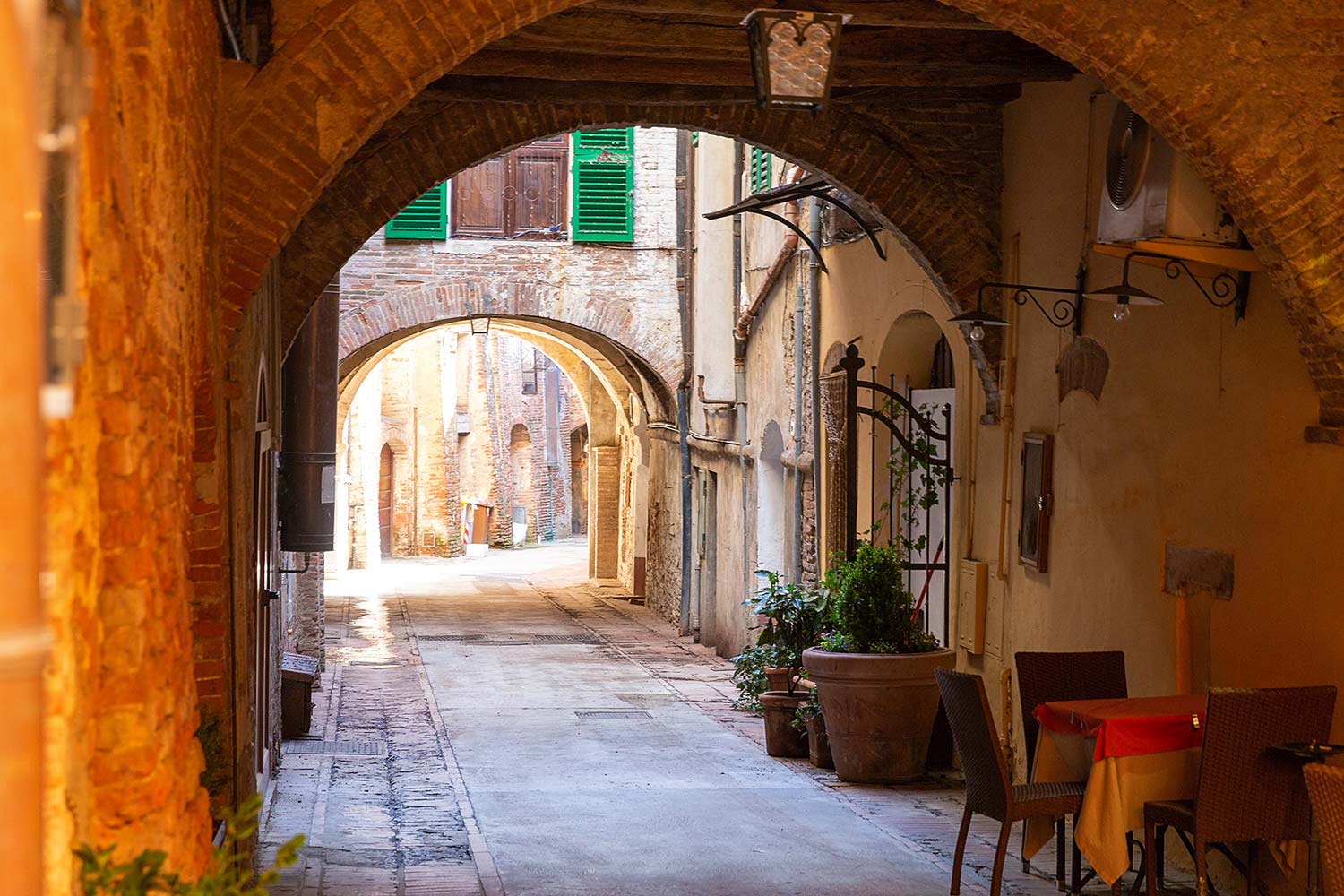 First on our list has got to be The Piazza Grande, a stunning ground to sit, drink and take in the scenery and historical buildings – it is a view that has been enjoyed by locals and travellers alike since the 1300s. You can also find the Palazzo Comunale here, also known as the town hall.
For those of you who may think that you're seeing double, the Palazzo Comunale is rather similar to the Palazzo Vecchio in Florence as it was based on it by Michelozzo in 1440. Michelozzo was Cosimo de Medici's most favoured architect.
Michelozza also created Sant'Agostino, a beautiful Renaissance church in Montepulciano. We also recommend visiting the Cathedral of Santa Maria Assunta, built in the 1500s after Montepulciano became bishopric. The building project was a long one and includes a triptych called the 'Assumption of the Virgin Mary' circa 1401, which was in the original church building before the elegant marble renovation over a hundred years later.
What to drink in Montepulciano, Tuscany
In Montepulciano, you have a choice of many cantinas where you can taste the nectar of the famous Montepulciano grapes, which is loved throughout Italy and far beyond, too. Montepulciano wine is distinct in flavour and can be found within one of the city's historic cantinas within the city walls and beneath the prestigious palazzos.
We also recommend taking the time to visit one of the wine cellars in Montepulciano for a world-class wine experience.
What to eat in Montepulciano, Tuscany
This town offers delicious generations-old dishes and family-owned restaurants – trattorie – with plenty on the menu for your to explore. Hand-rolled pasta, called 'pici' is a local favourite and can be enjoyed whilst sat on a terrace overlooking the city.
Montepulciano is also famed for its local produce which includes sausage, lentil dishes, cheeses and honey.
Events in Montepulciano, Tuscany
Montepulciano is a great base for seeing the Val d'Orcia as well as being home to many events throughout the year from concerts to arts and cultural events.
One of the most unusual events in Montepulciano has to be the 'barrel race,' which pits plucky contestants against one another. Each contestant is made up of a team of two, with each team hailing from a differing historical district within Montepulciano.
The contestants push the 80kg empty wine barrels through the streets of Montepulciano in late August, so if you are visiting during that time, then this medieval and rather fun event is not to be missed!
In order to create a luxury holiday that is truly special, in Montepulciano and beyond, please click here to get in contact with us.