Extraordinarily rich in underground thermal waters, Tuscany has the highest number of thermal centers in Italy. Well-known since ancient times for their therapeutic properties, its sulphur hot and healing springs are perfect for a visit any time of the year. Here is a selection of hot water springs in Tuscany that you can't miss on your next trip to Italy.
Saturnia, Italy's best-known hot spring
Hidden in the lush countryside of Maremma, about an hour south of Siena, Saturnia's enormous naturally formed travertine rock pools of swirling milky water are one of the region's best kept secrets. The warm sulphurous water is about 37° C and its soothing therapeutic properties can cure skin and circulatory ailments and relieve aches and pains. A large number of resorts and luxurious Spas has grown around the outdoor Saturnia hot springs. There are also two picturesque natural waterfalls formed by the springs which deserve a visit, called Cascate del Mulino, in front of an ancient mill, and Cascate del Gorello.
Fosso Bianco, San Filippo
Hiking through the woods of Monte Amiata, the highest in Tuscany, 40 minutes south-east of Siena, you will get to the secluded sulphur hot springs at San Filippo, set among some truly stunning enormous white mineral formations that remind of a mouth of a white whale. San Filippo has cascades and natural pools of frothy, hot, steaming water which gurgles out of the ground at 52° C year-round, and contains extremely high levels of sulphur, calcium, magnesium and sulphur bicarbonate. Access to the hot springs at San Filippo is free, and you can bath in Fall and Winter too.
Petriolo
The Petriolo hot springs, twenty minutes south of Siena, has a series of small natural pools, waterfalls and a lovely half-moon-shaped pond. The Bagni di Petriolo's hot springs were already known at the time of the Romans and, later, became popular with the Medici family too. Rich in sulphur and carbon, its waters can cure various kinds of respiratory and dermatological ailments. The pools are to be found just beneath amazing ruined walls dating from 404 A.D., remnants of ancient fortified Roman thermal baths. The Farma river passes right next to the Petriolo hot springs.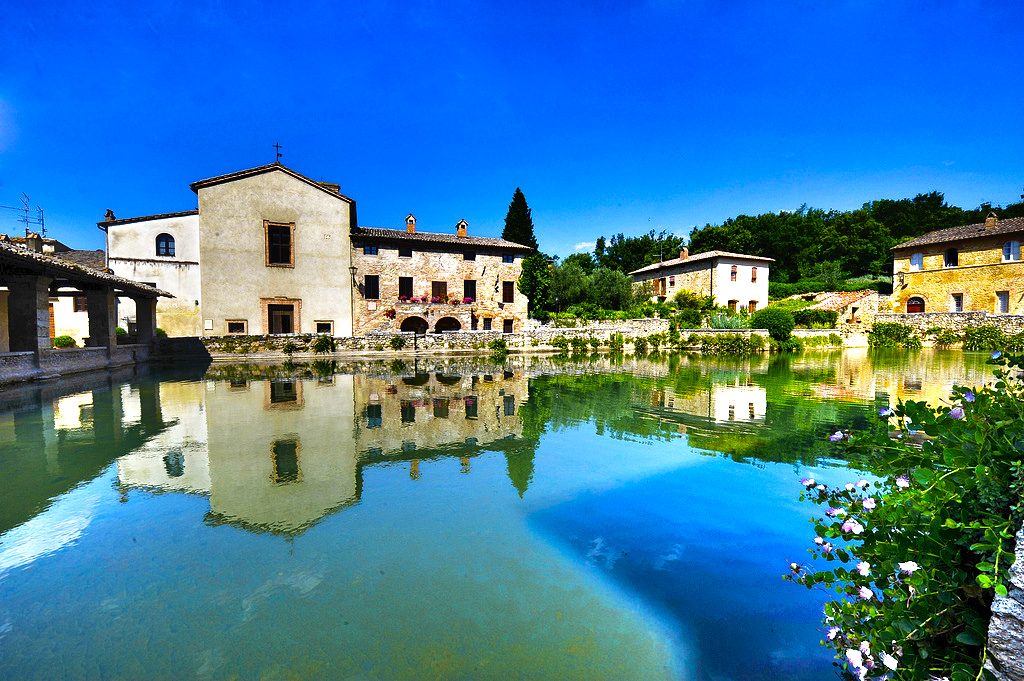 Bagno Vignoni
Tucked away 5 kilometers south-east of San Quirico D'Orcia, near Siena, the extraordinary ancient site of Bagno Vignoni has hot springs that have been known since ancient. Its central square is
entirely taken up by an arcaded Roman vasca. Located in the heart of the Val D'Orcia Natural Park, this jewel of a hamlet has springs that bubble up at a steamy 51° C and was once the vacation destination for the Medici family. Bathing in the Roman vasca itself is not allowed now, but you can still wallow in the mineral-rich waters in the nearby Spas and take the waters at the sulphur springs below a small cascade.
San Casciano dei Bagni
Hidden deep in the gorgeous hills of Tuscany's southeast corner between Siena and Montepulciano, on the border to Umbria, is San Casciano dei Bagni, an ancient medieval hill town, famous for its natural thermal springs rich in calcium and sulphur. San Casciano dei Bagni can be easily reached by those staying in Cortona and Siena.

Chianciano Terme
Famous for its thermal waters beneficial for the liver, Chianciano Terme makes a great day trip if you are staying in nearby Montepulciano, in the province of Siena, in southern Tuscany. In this quintessentially Tuscan Spa town, 10 km south of Montepulciano, there are more than a dozen Spa hotels, lovely gardens, classy boutiques and winding streets to stroll.
Montecatini Terme
In Northern Tuscany, near Lucca, Pisa and Viareggio, Montecatini Terme is the Tuscan Spa town par excellence, with Art Nouveau thermal establishments, bath houses, a big park, high quality shops and nice bars, restaurants and hotels. Montecatini Terme makes an excellent base for exploring Tuscany.
Monsummano Terme
About 25 km from Lucca to the west and 10 km from Pistoia to the north-east, Monsummano Terme is a 17th century town in an area known for thermal baths, near Montecatini Terme. People come here for its curative waters, especially Grotta Giusti's thermal waters rich in bicarbonates, magnesium and sulphates.