A cliff-edged promontory jutting out from the mainland in the southern part of the Gulf of Naples, the Sorrento Peninsula is a renowned travel destination in Italy.
At the heart of the peninsula is the amiable good-tempered town of Sorrento, famous for its art, historic architecture and liquors. Well-connected and easy to get to, Sorrento is a straightforward holiday choice. Popular since the early 19th century, Sorrento has attracted all kind of visitors, from the super-rich aristocrats to traders and adventurers.
Picturesquely perched on a plateau above the Mediterranean Sea, Sorrento sits on the steep cliffs overlooking the water to Naples and is famed for its perfect climate, ancient vineyards and orange and lemon groves that color the hillsides. The views of the Gulf of Naples and Mount Vesuvius from all over the town are breathtaking.
What to do in Sorrento
From excursions by sea or land to rural walks through citrus groves and terraces of olive trees, Sorrento offers a wide range of holiday experiences to suit different travelers. The lemon and orange groves are crisscrossed by marked footpaths. Don't miss a visit here in Spring, when the lemon and orange blossoms are in bloom. To the east is the Amalfi Coast, one of Italy's most scenic stretch of coastline, to the south is the best of the Sorrentine Peninsula's unspoilt countryside, and only 30 km to the north are Pompeii, Herculaneum and other famous archaeological sites. Naples is about 45 km to the north.
The Sorrentine Peninsula and the Amalfi Coast have much to offer on a luxury charter yacht. In Summer, this area is dotted with luxury charter yachts, superyachts and megayachts enjoying the beautiful cliff-side towns and crystal clear waters along the scenic coastline. Offshore are the enchanting, picturesque and sunny islands of Capri and Ischia. About 20 minutes by boat from Sorrento, Capri used to be a playground to the rich and famous in years gone by, and it still is one of the Mediterranean's must-see places.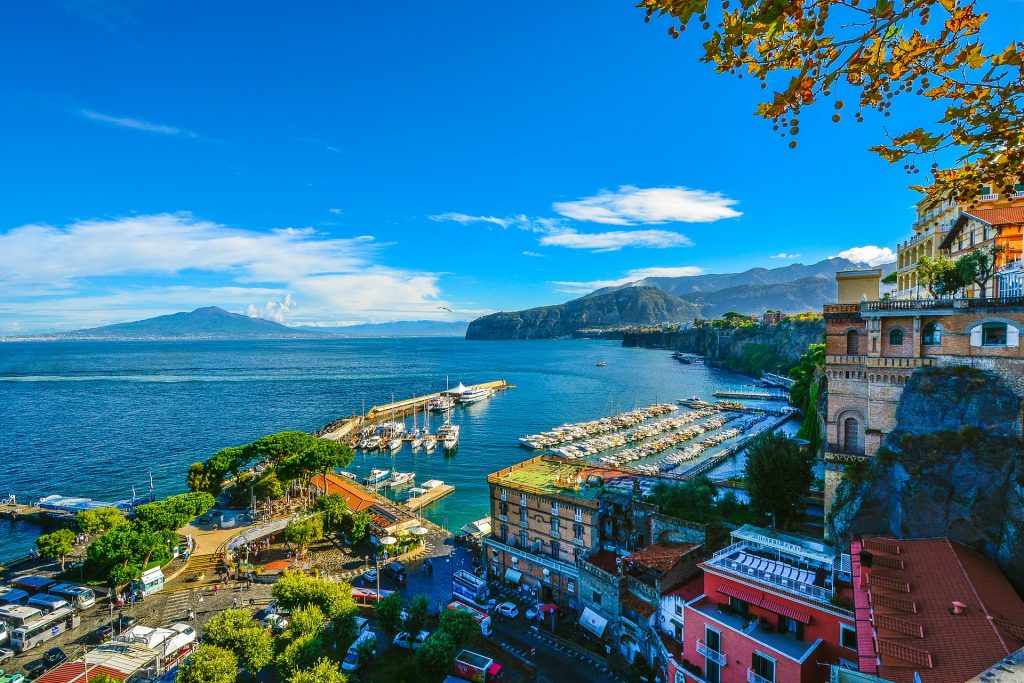 You can enjoy freshly-caught seafood down at the small village of Marina Grande, Sorrento's fishing hamlet, still not affected by the influence of tourism. There are also many Michelin-starred restaurants in town, which offer gourmet dining. In Sorrento you will find many interesting craft boutiques, ceramic workshops and fine old shops selling the lacework and marquetry items produced in this area. You can buy all sorts of lemon-related souvenirs here, from lemon-decorated ceramics and lemon soaps to lemon-print aprons, lemon perfumes, pasta and biscuits.
Where to stay in Sorrento
You can enjoy different types of holiday in the Sorrentine Peninsula depending on what you are in search of. An amazingly versatile destination, Sorrento has more choices of accommodation than other towns in this area, so it makes an excellent base for exploring the region's highlights.
English is almost universally spoken and the levels of service is way better and more satisfactory here to international travelers than some other places.
The historic center of Sorrento consists of narrow shopping lanes and tall buildings. If you want to enjoy the proximity of a wide range of gourmet restaurants, this is the place to stay. Sorrento has a good selection of charming five-star hotels scattered along the top of the cliffs in the historic center.
If you want to combine having a stylish retreat from the crowds with staying centrally, sipping cocktails on a panoramic terrace while looking across the Gulf of Naples, we have a wide choice of options for you. Just contact us by clicking here : we'll be glad to help you planning your next trip.