Alberobello is a small town in the province of Bari, in the Italian region of Apulia, famous for its fairytale-like 14th-century Trulli huts, which are distinctive cone-roofed beehive-shaped houses. A fascinating place to visit, the Trulli zone of Alberobello has been designated as a UNESCO World Heritage site since 6th December 1996.
What's a Trullo?
A Trullo is a small dry-stone rural building made from local limestone, characterized by a distinctive conical roof made without any mortar or cement, constructed in two layers. An inner skin of wedge-shaped limestone pieces was laid and then an outer layer of hard limestone tiles was placed over the top, slightly tilted outwardly in order to create a watertight covering. Many Trulli huts have handmade sandstone pinnacles atop their cones, as well as white-washed symbols with religious significance painted onto them.
Humble yet extremely picturesque hobbit-like buildings, the traditional Apulian Trulli were originally erected by agricultural laborers as temporary field shelters for animals, storehouses or dwellings. This typical style of construction, which gives Alberobello a very harmonious fairytale-like look, is specific to the Itria Valley, in the Murgia area. The Italian term trullo originats from a Greek word meaning cupola, and is now exclusively associated with this place, which is really unlike any other area in the world.
Alberobello is famous worldwide because its collection of more than 1,500 Trulli is really unique. Trulli are also found in the areas around Ceglie Messapica, Cisternino, Fasano, Martina Franca, Ostuni and Locorotondo, just 5 miles away.
Inhabitants here are welcoming and friendly, and sell anything a visitor might look for, from miniature Trulli and souvenirs to hand-crafted woollen capes and shawls.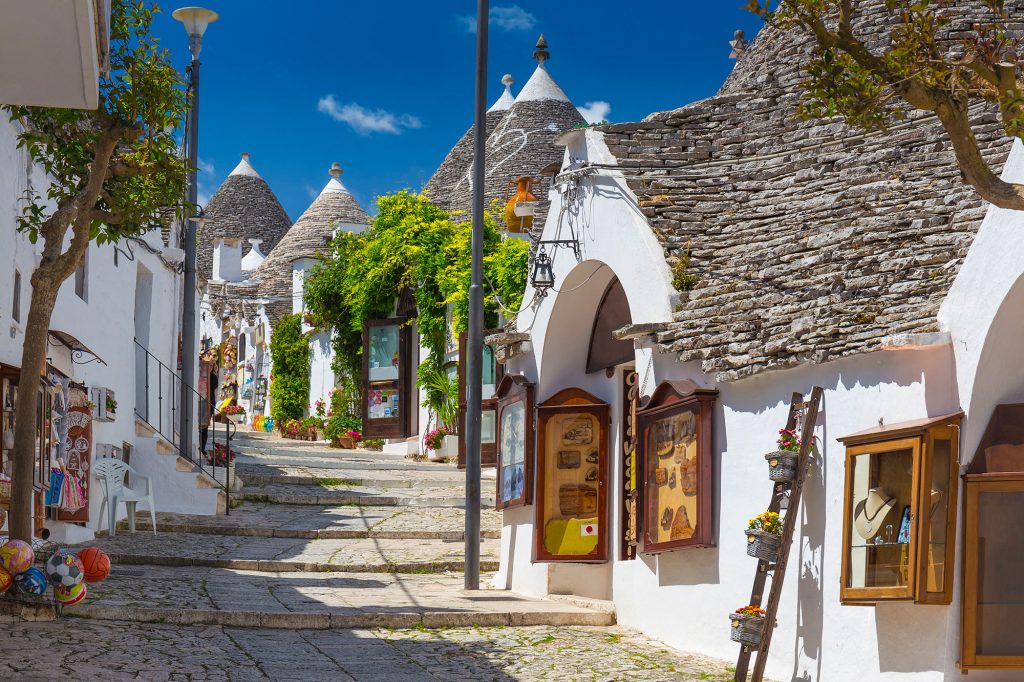 Getting to Alberobello
Alberobello is in easy reach of the breathtaking beaches of the Adriatic as well as of the Ionian. Both Bari and Brindisi airports are served by airlines connected with Russia, United Arab Emirates and the United States. Brindisi Airport is close to Lecce, another great holiday destinations in Southern Italy. Alberobello can be reached by car in less than an hour's drive from either Brindisi or Bari airport.
Where to stay in Alberobello
As the Capital of the Trulli, Alberobello is an exclusive tourist attraction, still not overrun by mass tourism. Alberobello has some high-class boutique and luxury hotels, and you can also rent a self-catering Trullo apartment to get the feel for this fascinating part of Italy.
Many Trulli have actually been renovated, modernized and turned into hotels, vacation apartments and exclusive holiday homes. You can stay in Trulli suites and apartments of various standards, some in the center of Alberobello and some in the nearby countryside, ranging from rustic to more exclusive ones, equipped with private swimming pools. The charming shape and white-washed thick walls give this kind of traditional Apulian accommodation a glamorous appeal. Some holiday Trulli can fit up to ten people. Rooms are surprisingly spacious and comfortable, with private bath, modern kitchenettes, dining facilities, wooden furniture and a television set with satellite channels, and offer a truly unique hotel experience in the deep South of Italy.
Would you like to discover the beauty of Alberobello with ILC ? Contact us now by clicking here