Ah, Rimini. The scope of this town's beauty is perhaps only equal to its popularity as one of Emilia Romagna's top destinations. When you think of a glamorous high-class vacation in the heart of Italy, Rimini's name is one of the first – if not the very first – that comes to mind. And rightfully so!
If you've already been so fortunate to visit, the memories of this sojourney are probably still vivid in your mind. Still… what's to stop you from diving into a powerful recollection of the magical moments you lived while there?
And if you've yet to experience the wonder that a luxurious vacation in Rimini might be, great! Let us take you onto a visual and conceptual overview of this town's fabulous stash of enchantements. From artistic treasures preserved through the ages to a rich and convoluted historical background, to some of the most amazing natural sceneries, Rimini has it all. Ready… set… dive!
Glories of sea and sun on the luscious Rimini beach
Better start right away with the obvious! Because although this town is special in many ways and deserves a first (and second… and third…) visit in just about any time of the year, there's no arguing that when you think Rimini, you think summer. Most of the tourists drawn to the Riviera Romagnola are looking for simple summer fun. And what's wrong with that? Summer is an excellent time for travels – and especially for travels in Italy. The coastline towns are never so much at their best. And there's just so much to do and to see – starting, of course, with long relaxing strolls across the beach.
But the travellers who pick Rimini as their summer holiday destination are a privileged elite. Whereas most tourists return from their holidays with a tan, some quality snapshots and engaging stories to share with their friends, they find out pretty soon after their arrival that there's a lot more to Rimini's beach than they thought.
Here's a secret. There is a reason if Rimini (and Riccione) are renowned as the most influential beaches in *all Italy* (notice the emphasis? It ain't casual) in terms of tourists and visitors. There may be a slew of beautiful Italian beaches and beach cities, but here we're talking of something different and exciting and altogether unique. The coastline extends for miles on end, lavish and gorgeous; an over 15-km-long, over-200-meters-wide pathway of the softest sand, swept by the frothing waves. The sea itself is an impossible blue, with the purest crystal-clear water.
It's not just a dazzling scenery in itself, though. Sunbathing on the shore, or taking a long rejuvenating swim on the waters off Rimini's coast, is the epitome of summer bliss. And it's why a summer holiday in this light-spattered reverie of sea and sun is never second best. You may have been in many seaside resorts in your life – some of them even exceedingly good. But Rimini is something else. It's a dream materialized, brought into the physical plane by a combination of ideal climate, lovely terrains, and perfect landscape. If there's a place where it can be said that it's where summer is at, Rimini is it.
Rimini and its ancient roots
But Rimini isn't only its beach. Or you might say – it isn't just its beach. Its historical background is rich and multilayered, representing an ideal opportunity for discovery.
The town itself dates back to as far as 390 BC, and has played a pivotal role through the centuries. Rimini was by turn a florid harbour where commerce and travels thrived, as well as a noteworthy resource for the Roman military fleet. But its artistic and urban value was not neglected either. Through the Middle Ages, under the patronage of the influential Malatesta family, Rimini would be the outset of many social and political upheavels.
Likewise, during the nineteenth century, the struggles that would lead to the Italian unificaton did not extempt it. Rimini was one of the most lively centres of activities where the revolution would spark and flourish. Years later, in WWII era, the town would again leave its mark in history through the efforts of a cluster of driven partesan fighterss. By turn convoluted and vivacious, or soothing and contemplative, if there was one thing Rimini (or its history) never has been, it's dull.

The stupendous artistic heritage of Rimini
Of course, its involvement in some of the most important historic events of the time would leave its mark. Nowadays, Rimini is not just renowned for its lovely weather or the splendour of its beach. There's sighthings literally around every corner – some of them even worldwide famous. The various influences to which the town has been subjected over the years are still present in some of the greatest example of its architecture.
The Romans, especially, left many testaments to their culture. The Tiberius bridge still stands today, and is an attraction to which dozens of tourists and historical aficionados are yearly drawn. Likewise, the majesty of the Amphiteatre has not lost its luster over two thousand years. The Church of St Agostino dates back to the thirteenth centuriest, and is currently one of the oldest shrines existing in Rimini. During the Renaissance, the Tempio Malatestiano was built to encompass what was originally known as the St Francis Cathedral, on commission of the local lord Sigismondo Pandolfo Malatesta. This imposing, majestic tribute to Leon Battista Alberti's skill never fails to amaze the visitors.
When all is said and done, the most authentic and characteristic trait of Rimini is its blend of various architectures. Through the ages, styles and cultures have mingled into an unique juxtaposition. From the ancient domus to the Art Nouveau buildings, the town is ripe with treasures to cherish. If a great many valuable buildings and historical treasures were damaged in WWII's bombings, it has not stopped Rimini from retaining its past glory. And if you're historically inclined and want to delve into an exploration of these open-air wonders, you will surely concur.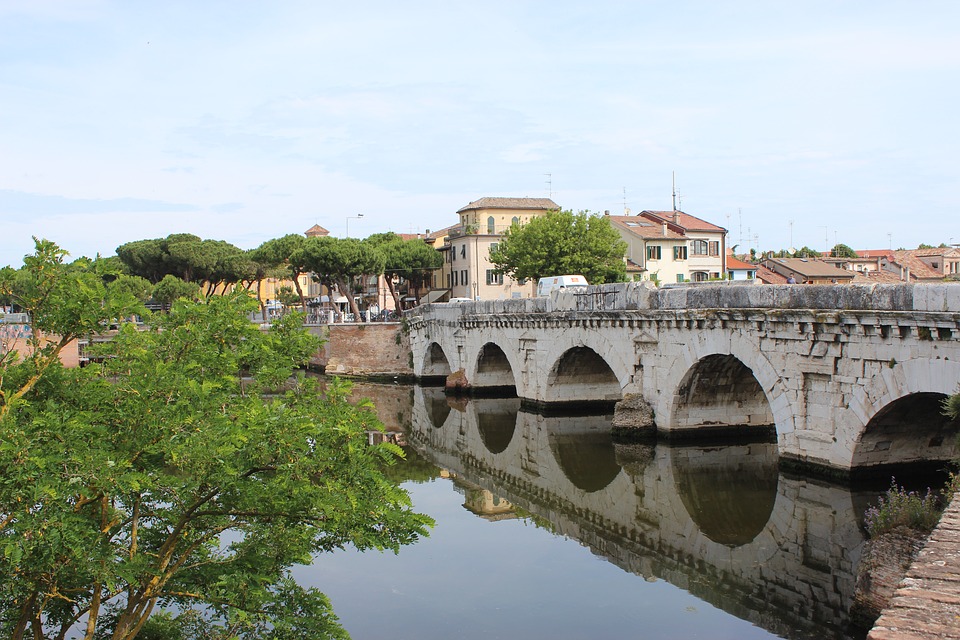 Discover the dazzling museums chronicling the town's past
Likewise, there's a plethora of musems and artifacts reaching back into the far past. Rimini is a treasure trove, as its heritage fully demonstrates. The sheer amount of finds and treasures documenting remote events… capturing stills of private and social life… and testifying Rimini's liveliness, are well worth a rediscovery. There's many opportunities that you should not miss in your Italian holiday – you only have to set out where you're gonna start from.
But if – as is likely – you're captivated by the aura of power and immense wisdom that this city holds, you can't miss a visit to Castel Sismondo or to the City Museum. The former has been converted in recent times into a cultural exhibition centre, housing paintings and artistic creations of momentous importance. The latter is the end and be all of Rimini's archeologic heritage, chronicling the vast historic influence of the town through the ages. From paleo-Christian finds to original collections of Etrurian artcraft, every room is a treat for the eyes. With a wide range of paintings, mosaics, scupltures, ceramic and grave goods, there's not an item on display that won't leave you mesmerized.
The antique instruments from the "surgeon's domus" represent a unique highlight, documenting how such specialized fields of the medical profession evolved over the centuries. The City Museum also owns a great many artworks of invaluable worth from such artists as Guercino, Domenico Ghirlandaio and Giovanni Bellini. By time, the museum might host temporary exhibitions, and a variety of research enterprises whose aim is to promote and safeguard the historical and archeological wonders of Rimini.
The Museum of Glances, another of the main exhibitions in Rimini, showcases a large collection of worldwide artifacts. Ranging from the eastern Asia to pre-Columbian America, it's a visual tour through timeless traditions and original repertoires, many of them unique. But historian buffs might be also interested in smaller-scale local curiosities, witnessing how Rimini evolved through the ages. In this particular regard, the Viserbella Museum of Small Fishing and Marine is a unique treat all on its own. Its collection includes fishing tools, large seashells, fishing related artifacts and ancient boats, testifying of the ancient roots of Rimini's harbor and its historical importance. It's a hit – and one you should not miss visiting.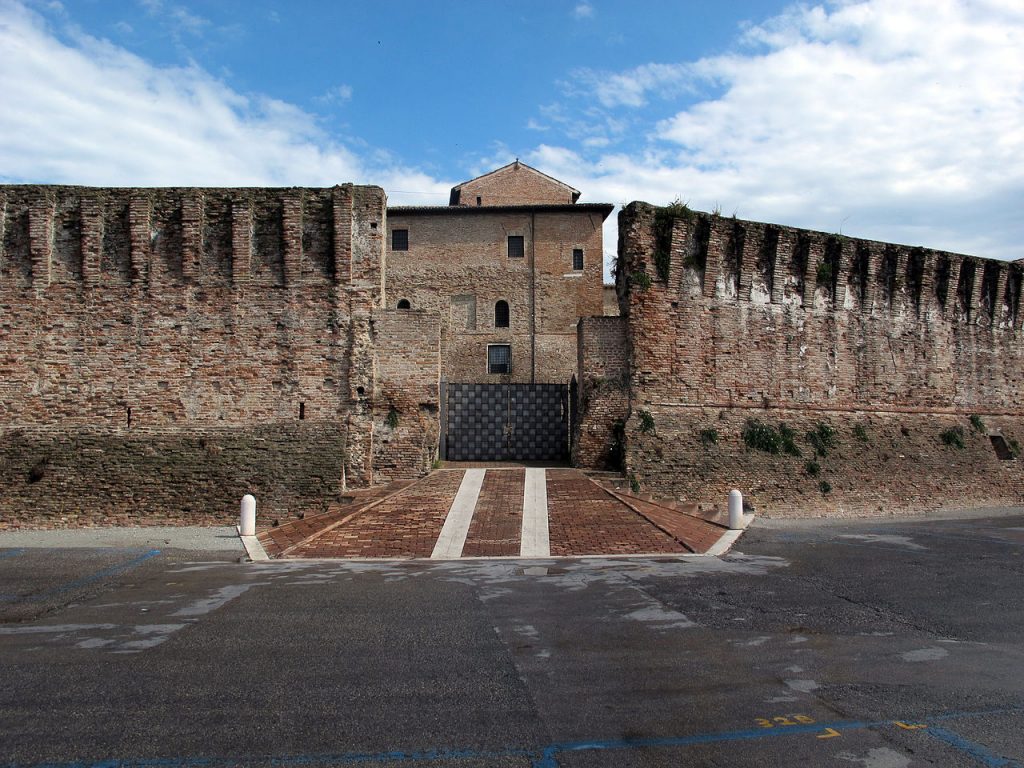 Federico Fellini and the Rimini of remembrances and reveries
If you're a movie aficionado taking a tour of Rimini, you just can't miss the Fellini Museum. A shrine and testament to the art of director Federico Fellini, it hosts events and exhibitions of costumes, trivia, original documentations, stills, and much more else besides.
Fellini, himself born in Rimini, bore a deep attachment to this town, which is still evident in the heart of his filmography. Drawing upon the town setting as a symbol of longing and past ties, Fellini was allegedly uncomfortable about the spotlight his movies had on this all too particular corner of Emilia Romagna. As he himself stated, the Rimini he portrayed on screen was more idealized than realistic.
In Fellini's conception, Rimini became symbolic – a reverie transplanted onto the physical plane. It "bore little resemblance" with the town itself, or with its features. It was a Rimini of the soul, of past remembrances and dreams – rather than a concrete, down-to-earth portrayal that the artist wanted to capture.
Movies like "I Vitelloni" or "Amarcord" – in itself a declaration of nostalgia for the sublimated Rimini of his memories – portray the Rimini of Fellini's mind, heart, and soul. It needn't be authentic to the "present day" as long as it was authentic to his inner vision. For all these reasons, Fellini was adamant about not visiting his home town often, when he could help it. The dichotomy between the Rimini of the soul and the Rimini of the real life was a gulf that could not – should not – be breached.
Nonetheless, his heritage remains powerful, and is proudly celebrated in the town. Fellini's name rings through Rimini. In the Fellini Museum – as in the collective mindset – there are signs of the man… the director… the artist who made Rimini's luster renowned worldwide. During your vacation, you just can't eschew walking in the footprints of this movie-making myth.
Rimini's lavish landscape; discover an authentic feast for the eyes
But there's more to Rimini than just its artistic and cultural background. The town itself is deserving of more than one visit – and of a thorought exploration.
Touring Rimini means discovering heights upon heights of visual treats. It's magnificient – and like all truly great towns, it's majestic. If you thought the Riviera Romagnola and the beach exhausted all the grandeur of its landscapes, then you haven't seen anything yet. Take our word on it.
There's many sights in Italy that will steal your heart – no doubt. But Rimini has something else. Its beauty is at a time austere, yet powerfully fascinating. It embraces the visitor with its many suggestions, and comes off as awe-inspiring more than intimidating. The Tiberius Bridge is, of course, quite a sight in itself – though by no means the only. A visit to the Amphiteater's ruins – which have been claimed back by nature over the centuries – is your next ideal step.
The Rimini park; take a stroll in the most amazing natural sceneries
But there's really much more else besides its monuments too. The nature surrounding Rimini is at a time dazzling and gorgeous. The town houses several public parks and recreation areas for visitors seeking a more intimate retreat from everyday hassles, a break from the strain of modern life. The parks system is the embodiement of Rimini's truest, most original beauty.
Visiting the Giovanni Paolo II park or XXV Aprile Park is not just rejuvenating, or relaxing. It's also intensely uplifting. Breathing into the fresh air of this pure stretches of green lawns and trees means rediscovering yourself. It's lush, and it's genuine. Chances are odd you'll find yourself savoring your time there… lingering in long, lazy strolls under the sun-strewn tree tops. Don't worry about pressures – you have plenty of opportunities to experience the many wonders of Rimini. Take your time, and your leisure. Because when all is said and done, the all-ecompassing natural pathways like the ones of the Rimini parks are meant to be thoroughly enjoyed like a glass of good wine. You can't rush it – no more than you can escape the powerful sense of awe and wonderment. And honestly – why should you?
Take a ride on the incredible Ferry Wheel of the Rimini harbor
Even the harbour itself is an absolute treat. Walking across long lines of boarded ferries will take your breath away. But never so much as will the huge panoramic Harbor Wheel. Whether you see it stand against the bright blue sky, or alit with its glow against the night-time cityscape, its majestic charm never subsides. Watching it from the ground is already a treat in and of itself. Riding it – seeing Rimini stretch out under your very eyes… that's definitely something else.
Words seldom can do justice to this one of a kind experience. You might have been on other panoramic wheels before – and no doubts you've seen many a great town from the sky. But believe us when we say this will give a brand new meaning to the word 'glorious'. Faint of heart? Don't worry – this is an all positive emotion you'll be overwhelmed by. Like all truly great sights, its strength lies in its splendour.
The enchanted beauty of Rimini beckons
If all we've showed you thus far has not yet persuaded you to plan an exclusive holiday in Rimini – there's just one thing that will. Visit the town yourself. See it – live it – become immersed in its powerful atmosphere. Even a fleeting stop will work the charm, and reel you in. Because Rimini's just that grandiose.
So don't delay! Your holiday to an uncharted land of many wonders awaits. It will, in turn, surprise, amaze, even move you to tears. You don't want to miss a single instant of it – and rightfully so. Out of all your travel experiences, this might well be one of the most intense. And for very good – we'd say, excellent – reasons.
Ready to let the enchantment of this beautiful place take you by hand? It's all it takes for you to savor its magic. And if you're a returning visitor… this will no doubt ring a familiar tune, huh? Because ultimately – you can't pass Rimini by without falling in love with it. It's just downright impossible. This treasure trove will keep tugging at your heart… calling you back to its shores… long after you've headed back home. And it'll be absolutely worth it to pay heed, and come back a second time. And a third. And… well, we think you've got the point! 😉
PS – In case you're wondering, yes! We at Italian Luxury Consulting can set up the most exclusive package for your stay in town. Don't believe it? Contact us. We'll personally oversee that you don't miss a thing during your stay. Our travel experience is at your disposal. And we want you to enjoy your vacation to the most!