If you love wine-tasting, vineyard-hopping, blissful beaches and delicious food, you should definitely head to the ancient wine-making town of Menfi, sitting between the fisherman city of Sciacca and Selinunte with its magnificent temples, in southwestern Sicily.
A true gem of Southern Sicily, in the province of Agrigento, Menfi, is one of Italy's finest and most historic wine towns, surrounded by gentle rolling, vine-carpeted hills.
Its luscious vineyards, crystal azure waters, sand dunes, peaceful beaches and locally produced superb wines make Menfi one of the finest holiday destinations in Sicily.
Read on to find out more about Menfi.
What to do in Menfi, Sicily
Menfi has a wide range of local attractions to keep you entertained throughout your vacation. The following is a list of the top things to do in and around Menfi:
lounge on the fine golden sand beaches of Porto Palo, Lido Fiori, Capparrina and Belice Nature Reserve and the pebbly beach of Giache Bianche, on the coast below Menfi. The coastal strip extends for some 10 kilometres and has an outstanding naturalistic value;
stroll through Menfi's old centre, with its pretty streets, historic palazzi and lovely sea-view squares. Piazza Vittorio Emanuele III is the true heart of the town;
enjoy bewitching views out to the Mediterranean Sea from the 16th-century watchtower above the ancient fishing village of Porto Palo;
visit the majestic Acropolis of Selinunte, a short drive west;
visit the historic port town of Sciacca, a short drive east;
visit the historic towns of Trapani, Marsala and Mazara del Vallo, an easy drive northwest;
visit the UNESCO World Heritage Site of the Valley of the Temples in Agrigento.
Not to be missed attractions in Manfi town include the castle of Burgimilluso in the old town, the Frederick's Tower, the Palace of Pignatelli, the Mother Church of St. Anthony of Padua, the Church of St. Joseph, the Church of Maria Santissima Annunziata, with its impressive clock tower, and Palazzo Ravidà, with its beautiful portico with Doric columns in sandstone.
Wine and culinary heritage in Menfi, Sicily
Thanks to its specific geomorphological connotation and top-quality ingredients, Menfi has an honourable viticultural and culinary tradition. This is the perfect place to make wine, as the vineyards lying close to the crystal azure sea are blessed with warm sunlight and sea breezes. 80% of the territory is devoted to agriculture and wine production and became a DOC region in 1995.
Menfi's wines and delicious food are celebrated every year in June at the Inycon Festival, an event that aims to enhance the connection between the territory of Menfishire and wine and agriculture of sky-high quality.
Curious eating habits in Sicily
Lemon and almond granita and brioche are commonly eaten as a breakfast dish in West Sicily during the summer. Yummy!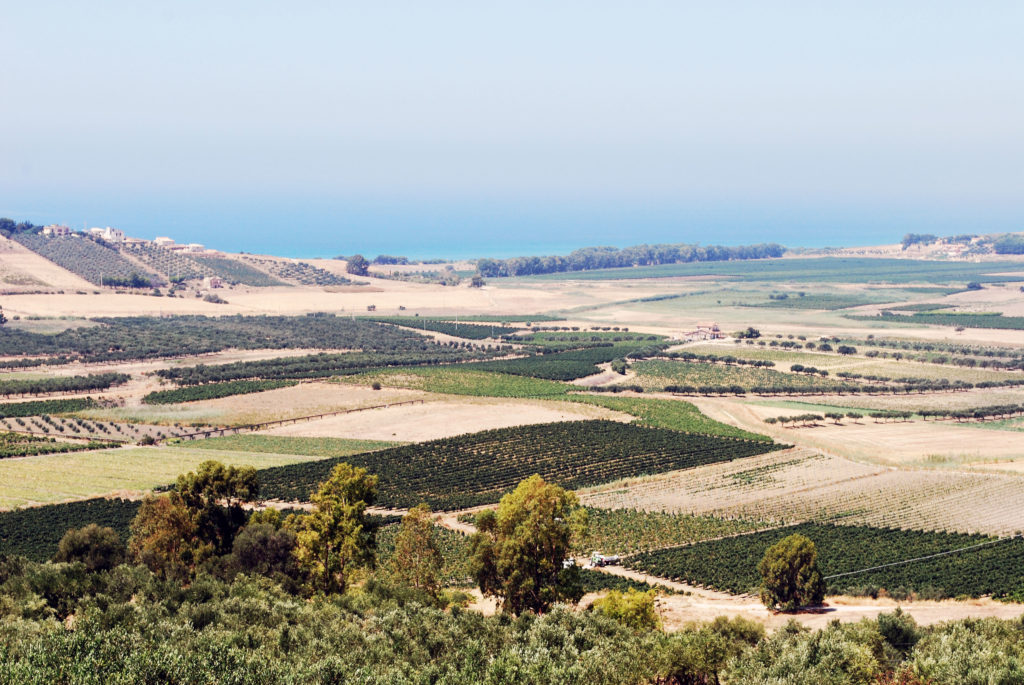 Come on, it is time to sample some vintages! We have selected the best boutique hotels and luxury retreats with panoramic views for you. Call us now to plan your relaxing holiday in Menfi, away from the stresses of daily life.