Famous for harboring French Emperor Napoleon during his exile, the Tuscan island of Elba has an exotic blend of Mediterranean cultures, stunningly picturesque architecture and idyllic landscapes, from green highlands to golden sandy bays, from lush valleys to Mediterranean pine forests.
Napoleon Bonaparte would probably think twice about fleeing Elba today. Six miles off the Tuscan coast, this lovely small island is an ever-glorious heaven of beach-laced coves, seducing vineyards and turquoise bays, with nothing to envy of more exotic Caribbean destinations.
Italy's third-largest island after Sicily and Sardinia, Elba has a wonderful climate, relaxed atmosphere, excellent choice of cuisine and exhilarating scenic drives, with many viewpoints for enjoying the vistas up to hill-top charming towns or down to a crystalline sea. An hour off the mainland, Elba Island is a sort of distillation of the best of Italy.
Richly endowed with beautiful sandy beaches and pine-clad mountains, dominated at the center by the kilometer-high Mount Capanne, Elba is part of the Tuscan Archipelago National Park, together with eight other islands, and will suit anyone who likes great food, renowned wines, good diving, mountain walks and desert beaches backed with steep, thickly wooded slopes.
Enjoy outdoor adventures in Elba Island
In addition to the unsurpassed natural beauty, there is a wide range of water-sports activities available around the island. Renowned for the beauty of its seabeds, Elba boasts an extraordinary richness of marine flora and fauna, which makes it a paradise for divers.
Try your hand at sea kayaking, climbing, trekking and windsurfing here. Elba is also cycling and mountain biking heaven, with a dedicated cycle route for both children and adults. There is also a cable car to the summit of Mount Capanne, to enjoy breathtaking views. Educational farms, a mineral museum and the Mediterranean Aquarium are also available.
Don't miss a boat tour around the island to see the astonishing variety of colors of its shorelines. Most of the shore is public, so you can stop where you fancy.
Where to tan
A-list celebrities visit Capri and Costa Smeralda to be seen, and, then, head to Elba to relax. From cliff-rimmed creeks accessible only by boat to the very fine grain sand dunes of Lacona, from tiny coves like Punta Nera to hidden rocky diving spots, Elba's lustrous beaches are extremely varied and unique.
Tucked into the base of a steep slope, Cavoli Beach, on the southern coast of Elba, draws a youthful party crowd, while Fetovaia, on south-western side of the island, is a glorious natural heaven with white, fine granite sand and crystal clear water that goes from turquoise to sapphire.
Perfect backdrop for photographs, Sansone, a north-coast gem, is a white pebble beach that boasts crystal-clear turquoise waters, while Procchio is a child-friendly beach, with many different facilities for tourists.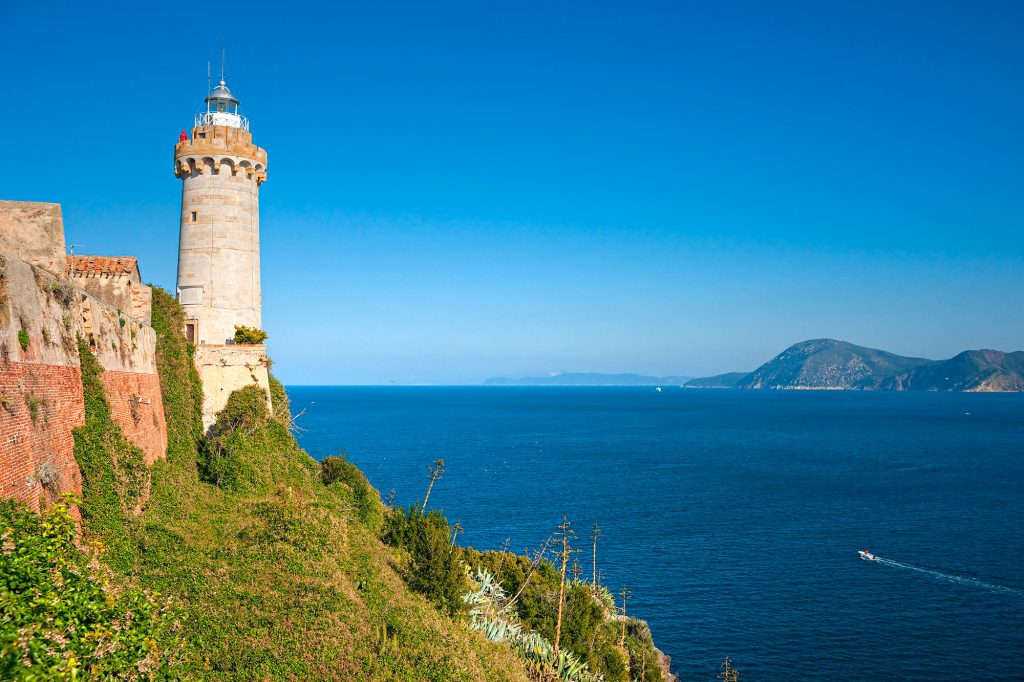 If you're sightseeing in Portoferraio, the island's capital, don't miss Le Ghiaie, with its bright white shingle, and Capo Bianco, one of Elba's precious jewels, with white cliffs at the back.
One of those awesome deserted beaches best accessed by boat or yacht is Maciarello, in the north-western part of the island, also called La Fontina because it is near a spring.
When to go
The best time to go to Elba is May, when grapes and olives are harvested and the scrubby interior is brightened up by wildflowers in bloom, and late September, when the seas are still warm and the beaches are empty. Avoid August, when German and Italian tourists flock here and the roads are jam-packed. With the exception of high season, Elba is something of a Daniel Defoe's Robinson Crusoe paradise, with plenty of tranquil nooks.
How to get there
The quickest and most suggestive way of going to Elba is a helicopter flight. Alternatively, the ferry crossing from Piombino takes approximately an hour.